DungeonGameAssetPack
A downloadable asset pack
Thank you for taking a look at my dungeon game asset pack! Find everything you need here to make your own Castlevania inspired game! Gameboy colors! Most of the sprites are set up so they work with the background, just like in Castlevania everything blends with the black.
Color Palette used: Nintendo Gameboy(BGB)
Example: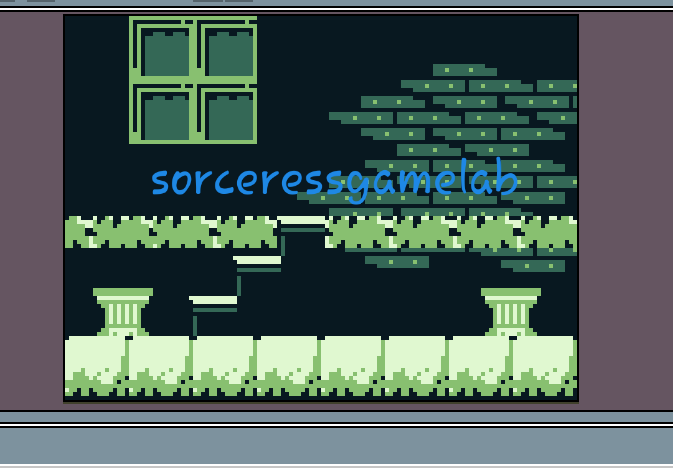 What this pack includes:
Tiles: Mix and match the tiles any way you want, I made them in different varieties so you should be able to make quiet a few levels out of them! Feel free to add more of your own if you are making a game from it.
Items: Find many different items such as hearts, gems, chest and more!
Background: Since I made this asset pack with a limited color palette you may add your own background or simply choose one of the green tones to fill it. Check my example levels for inspiration!
Monsters: Please note the monsters are NOT animated. You can add them easily into Aseprite and animate them yourself if you wish.
I provided Sprite sheets for those who prefer to have it all on one sheet. For those who like things separate go to the Sprite Folder.
I also included Example levels in case you need some ideas how to set up the levels. You can easily import the sprites into Aseprite or any other software for animation. Feel free to animate the items/monsters yourself. If you make a game from it I would love to see! You can post it in the comments below.
NO REDISTRIBUTION.
You are allowed to make games with this and sell them if you like. If you are making something similar to rpg maker where free sprites are provided for the software that is NOT allowed. Please read my license below, thank you!
Please follow this license:
https://graphicriver.net/licenses/terms/extended
For further inquiries please reach me on twitter @sorceress2016
or email me here: sorceressgamelab@gmail.com
Thank you!
Download
Click download now to get access to the following files:
DungeonAssetPack.zip
37 kB