Witchy Platformer Tile Set
A downloadable asset pack
Thank you for taking a look at my witchy platformer tile set!
What this tile set includes:
Backgrounds: 5 different background images, 256x128 size.
Tiles: find different kind of tile sets that you can mix and match, also find smaller tiles and blocks that can be used for platforms.
Items: Find over 40 items such as decoration items, potions, coins/gems, cauldron, ingredients items, candles, cats and more. Many items come in different colors and varieties. I also added outside items such as trees, moons.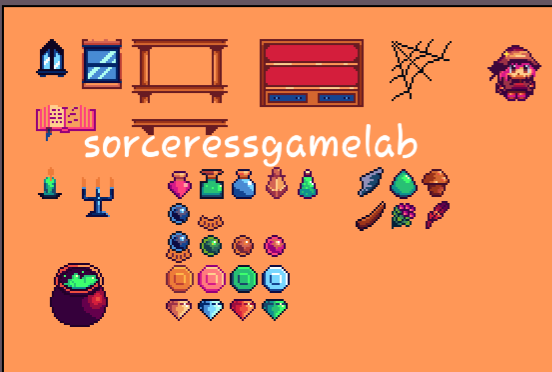 UI: find UI elements such as different color buttons, bars that can be used for health/magic, hearts.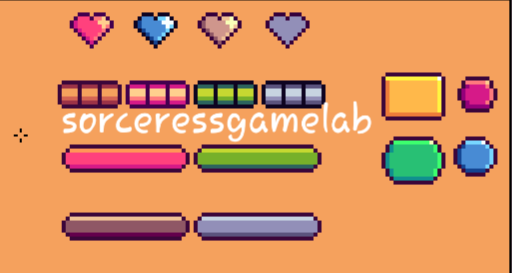 Player: 1 witch. Idle animation ONLY. Feel free to add more animations yourself or even use your own characters!
All sprites are made in Aseprite.. Feel free to import them if you want to recolor anything or add animations to the witch or any of the items. Also feel free to add your own characters to it! If you are using unity the buttons can easily be sliced or images be filled. Use your imagination in this one and make any kind of game you want!
NO REDISTRIBUTION.
You are allowed to make games with this and sell them if you like. If you are making something similar to rpg maker where free sprites are provided for the software that is NOT allowed. Please read my license below, thank you!
Please follow this license:
https://graphicriver.net/licenses/terms/extended
For further inquiries please reach me on twitter @sorceress2016
or email me here: sorceressgamelab@gmail.com
Thank you!
Download
Click download now to get access to the following files:
WitchyPlatformerTileSet.zip
25 kB